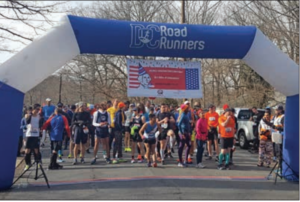 Runners prepare for the start of the annual George Washington's Birthday Marathon on Northway, on Sunday, February 17.
– Photos by Jamal Williams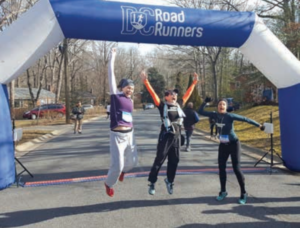 Linsey Malig-Mayhew, Aileen Kroll and Marina Goldgisser show their excitement after finishing the marathon.
There are many reasons a person would choose to participate in a marathon: exercise, personal achievement and happiness are a few. It also takes a lot of preparation, practice and mental determination to complete the 26.2 mile race. But the best part about it is simple: the race is open to anyone who wants to give it a try.
Raj Bhanot, who coordinates the annual George Washington's Birthday Marathon, described the event as an opportunity for growth and giving back. "I've been running marathons for more than 10 years and it is a way to give back to the running community," he said. Bhanot reminded runners to not put so much pressure on themselves and to live in the moment during the race. "Enjoy yourself, be in the zone and don't try and compete with others."
Aileen Kroll, co-director at the Center for Dynamic Community Governance, is an experienced runner who has competed in many 5k, 10k, half- and full-marathons over the years. With each race, a new memory is made. "It takes a lot of courage to be out there that long. They are all very special to me, each race has a different feel," she said.
Kroll participated in the George Washington's Birthday Marathon, which started near the Greenbelt Youth Center on Sunday, February 17, and continued onto roads on the Beltsville Agricultural Research Center. While this was not her first time running in a marathon, Kroll made her first appearance in this marathon with her team, the Sprintsteens. It was also her first time running the race as a relay event.
The relay run consisted of three loops with each runner responsible for completing their own part of the marathon. The first two runners made a relay exchange after completing their portion of the marathon, leaving the last runner responsible for finishing the race. "All times are compiled, sent online and are done in comradery," Kroll explained. Running alongside Kroll were teammates Linsey MaligMayhew and Marina Goldgisser, who would be competing in the first and third legs of the race, respectively. Both are teachers at Springbook High School in Silver Spring; Malig-Mayhew teaches special education and Goldgisser teaches science. Having prepared for the race for a while, they were determined to do their part.
Kroll was more than prepared to complete her second leg of Greenbelters Run Marathon, Savor Satisfaction of Success by Jamal Williams the race as well. Though she had much experience running, Kroll recalled a time when racing wasn't always open for everyone to join. "It used to only be geared to the elite runners, particularly white men. Women weren't allowed to participate at first, but now there's equal opportunity," she explained. Kroll was happy to see that men and women of all ages, sizes and backgrounds are able to participate in the event. "What I love about running is that it is available to anyone in any condition. You don't need any specific skills to join and it brings people together because it is not exclusive to one kind of person," she said. "Whether you're walking or running, all you need is a pair of sneakers and you're good to go."
After more than four hours, the Sprintsteens crossed the finish line. In the aftermath of the race, Kroll and her teammates glowed with the satisfaction of meeting a tough challenge. Though they did not cross the finish line first, Kroll said completing the race was an accomplishment in itself. "Some people run unprepared, some people even run barefoot, just show up and do whatever it is that you do," she said.
Jamal Williams is a graduate student in journalism at the University of Maryland and a reporter for the News Review