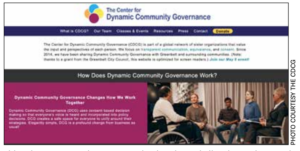 The Center for Dynamic Community Governance (CDCG) is delighted to roll out a new and vastly improved website at dynamic-governance.org.
Thanks to a grant from the City of Greenbelt, CDCG secured the services of Mike Carson, a web accessibility specialist and multidisciplinary designer, who:
a) improved navigation and readability for those who are sighted;
b) improved access for those with limited vision, for example, by choosing colors with particular contrasts;
c) facilitated using screen readers by attaching text for all pdfs and graphics; and
d) improved the site for those with hearing impairments by adding running captions on each video, a hidden description of each picture and a layout that enables the screen reader to proceed smoothly down every screen in the website.
CDCG is eager to see all Greenbelt businesses and community organizations update their sites to meet the standards of the Americans with Disabilities Act (i.e., be ADA compliant). To learn more, email Carson at mcarson@ mikecarsonconsulting.com.
CDCG is launching the site during these challenging and uncertain times because digital connections have become, for many of us, our primary link to the world. It is, therefore, more important than ever to provide everyone with full access to the vital communications of our community.
Contact Aileen at aileen@ dynamic-governance.org for the Zoom link and to provide feedback on the new site.