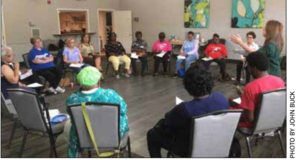 Greenbriar residents discuss obstacles to accessing Greenbelt city services.
The Center for Dynamic Community Governance (CDCG), a Greenbelt-based non-profit organization, recently completed a yearlong, city-funded project to help Greenbriar residents address obstacles impacting their use of Greenbelt services, particularly those offered through CARES and GAIL. CDCG employed Dynamic Community Governance (DCG) processes to help the project achieve its goals.
The project was born when a Greenbriar board member asked CDCG co-directors Aileen Kroll and John Buck to bring Dynamic Community Governance training to Greenbriar to encourage community engagement. After addressing specific issues and meeting with Greenbriar residents, Kroll and Buck came to recognize that many Greenbriar residents were unfamiliar with basic services, programs and offerings available to all Greenbelt residents.
The Process
The process began with a meeting between CDCG co-directors and Liz Park, the director of CARES/GAIL. She and her staff were instrumental in ensuring the success of the program and were eager to expand their offerings to underserved parts of Greenbelt.
CDCG then introduced the concept behind the project to the Greenbriar Condominium Association. They offered use of their Community Center for the project and collaborated with Kroll and Buck to distribute flyers promoting CDCG-run community meetings throughout Greenbriar, at community meeting places where Greenbriar residents were likely to go, in the Greenbelt News Review and through social media.
As CDCG staff began to work with Greenbriar staff, they expanded their outreach to publications in the Greenbriar Crier and developed a link on the Greenbriar website to publish writings and notices by and for Greenbriar residents. They also encouraged participants to use Greenbelt Nextdoor, a private social networking site designed to encourage neighborhood development, promoted the project through the Greenbriar National Night Out, and met with News Review staff to explain the project and give the paper a heads-up that participating Greenbriar residents would be submitting articles. CDCG also received support and encouragement from residents throughout Greenbelt including city councilmembers, some of whom attended or made appearances at the group's sessions.
Specifics
Over the course of the year, Kroll and Buck conducted a series of six meetings open to all residents of Greenbriar. In addition, they made numerous contacts by email, phone, text and in-person sessions designed to reinforce the principles they were trying to teach to ensure that the group could be self-sustaining by the end of the year.
The CDCG team began by introducing residents to basic principles of DCG, focusing on transparent communication to ensure that all voices were heard and all ideas were respected. They worked closely with CARES and GAIL staff who attended, shared information and resources and supported all ideas suggested by the group. The group also heard presentations from numerous community groups including the Chesapeake Education, Arts and Research Society (CHEARS), Old Greenbelt Theatre, GEMZ, Greenbelt Time Bank and the Calvert Farms CSA. Participants were educated about available resources in Greenbelt in the context of becoming empowered to act as a community using DCG processes to make decisions about how to best use city services.
Some of the ideas the group explored include accessing nocost space in the Greenbriar Community Center for GAIL programs focused on caregiver support for aged loved ones or those living with disabilities; familiarizing Greenbriar (and Greenbelt) residents about no-cost and/or low-cost transportation options; learning about and accessing legal, financial, consumer protection resources; addressing cultural and linguistic challenges in a learn-about-your neighbor way; learning about and accessing nocost and low-cost food options; learning about and accessing Greenbelt's Memory Café; and working with the city to have a bus tour from Greenbriar to Old Greenbelt.
Passing the Baton
At the conclusion of the year, CDCG staff passed the baton to the members of the newly formed outreach group at Greenbriar. One of the group's newest projects is to organize tours of Greenbelt for Greenbriar residents. These tours are designed to break down barriers that have precluded full inclusion. Many Greenbriar residents, new and old, are largely unaware of the city services, programs, businesses and institutions that exist in Old Greenbelt. The first bus tour this summer was a resounding success.
The outreach group at Greenbriar has also been exploring the possibility of having a part-time The Old Theatre gave a presentation (complete with a door prize of a one year family subscription plus popcorn ) at one of the Greenbriar Outreach Group meetings. Pictured from left: Angeline Butler, Leslie Cummings, Isabella Wilkinson and Aileen Kroll. – Photos by John Buck CARES/GAIL satellite office on-site. They are also working with their boards and management to improve resident access to community information and services. Valuable community linkages have been established. This project is now on-going and self-sustaining as CDCG's formal involvement draws to a close.
Most significantly, community bonds have been created and strengthened and community leaders have emerged. CDCG staff and participants at Greenbriar acknowledge the key role the City of Greenbelt's support played in this project.
CDCG invites Greenbelt residents to Greenbriar's National Night Out on August 7. Guests will have the opportunity to meet CDCG board members and Greenbriar residents who will familiarize those stopping by with the workings of the ongoing outreach group at Greenbriar and the CDCG process.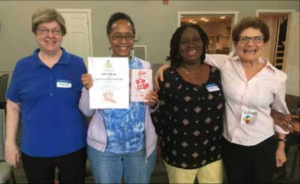 The Old Greenbelt Theatre gave a presentation (complete with a door prize of a one year family subscription plus popcorn ) at one of the Greenbriar Outreach Group meetings. Pictured from left: Angeline Butler, Leslie Cummings, Isabella Wilkinson and Aileen Kroll. – Photos by John Buck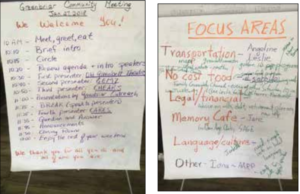 Agenda for the Greenbriar Outreach           Results of brainstorming 
                                                           Group Meet and Greet           about focus areas